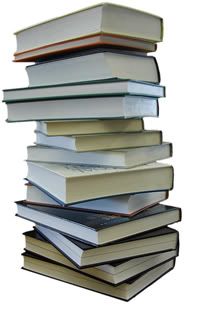 The Redoubtable Marcus Magnus
, knowing what a sucker I am on this subject (and being a really huge one himself), has tagged me for a meme about books. (By the way, I think the book he has in mind in his answer to Item No. 7 is Abbé Augustin Barruel's
Memoirs Illustrating the History of Jacobinism
-- a book both of us would like to lay our hands on.)
1. One book that changed your life:
A Trumpet for Reason
, by Leo Rosten, author of
The Joys of Yiddish
and
Hooray for Yiddish!
. It helped nudge me to conservatism, which in turn helped nudge me back into the Church.
2. One book that you've read more than once:
Hands down, it's actually three books:
The Lord of the Rings
, by J.R.R. Tolkien. After reading it 35 times, I lost count. (And, of course, because I read these books so many times, the movies, with all their plot and character changes, drove me nuts.)
3. One book you'd want on a desert island:
I also want a Notebook with a satellite internet connection, not only so I can read all the books, but also so I can send for help!
4. One book that made you laugh:
All the Trouble in the World
, by P.J. O'Rourke.
5. One book that made you cry:
Just about anything by St. Alphonsus Ligouri or St. Louis de Montfort.
6. One book that you wish had been written:
"How Bill Clinton Lost the Presidency."
7. One book that you wish had never been written:
The fraudulent yet incredibly destructive "Kinsey Report" on human sexuality (which is actually two books).
8. One book you're currently reading:
Libido Dominandi: Sexual Liberation & Political Control
by E. Michael Jones. I'm also just starting Ann Coulter's new book:
If Democrats Have Any Brains, They'd Be Republicans
.
9. One book you've been meaning to read:
One day I'd like to be able to get through Gibbon's
The Rise and Fall of the Roman Empire
. I've tried a couple of times to get through it, but so far haven't succeeded.
I tag Athanasius contra Mundum at
50 Days After
!